Melissa Newman (2nd r) of Westport presents a gift of $5,000 from the Joanne Woodward Fund —a donor-advised fund of the Fairfield County Community Foundation— to be used for general operating support of Westport Cinema Initiative. Westport Cinema Initiative is working to bring an independent art house movie theater back to Westport. "We could always watch movies at home, even when I was a kid, but we still went out and stood in line with everyone else," said Newman, daughter of actors Paul Newman and Joanne Woodward. "Every movie had the potential to be a shared experience for the whole community. Going to the movies brought the town together every weekend. Popcorn and a movie." On hand to receive the gift were (l-r) Doug Tirola, Sandy Lefkowitz, and Larry Perlstein of Westport Cinema Initiative.
See the article on WestportNow.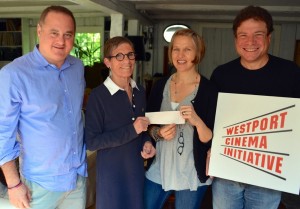 Photo courtesy of Helen Klisser During for WestportNow.com.