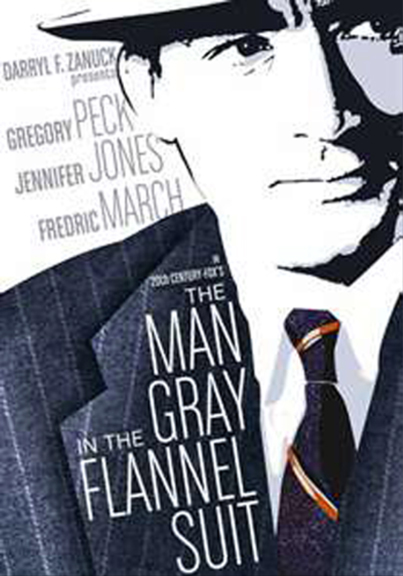 WCI will screen the film The Man in the Gray Flannel Suit at Westport Town Hall in March 2012.
Step back into the 50's, when the (m)ad-men of Westport caught the train at Saugatuck Station inbound to Grand Central, and became men about town. Westport Cinema Initiative and the Westport Historical Society present a Sunday March 18th screening of the classic The Man in The Gray Flannel Suit. Sloan Wilson's 1955 novel, set and later partially filmed in Westport, stars Gregory Peck as a rail commuter as well as Jennifer Jones, Fredric March, Lee J. Cobb, and Keenan Wynn. A fictional look at conformity in the executive suite, the book and film provoked national discussion about the nation's business community.
At 2:00pm there will be a pre-screening reception at the Westport Historical Society. Your film ticket will entitle you to a martini or lemonade, served up with nibbles from the café at Wave Hill Bread. Martinis will be shaken and poured by the expert mixologists from LUXE, the new establishment on upper Main serving modern wine and cocktails. You can also tour the WHS's current exhibit Next Stop: Westport! The Inspiration for 1950′s TV & Film Writers with references that include I Love Lucy, The Man in The Gray Flannel Suit, The Twilight Zone and Rally 'Round the Flag Boys – "all of which made small-town Westport and its commuter lifestyle a national TV and film sensation."
At 3:15 the screening will begin across the street at Town Hall. Following the screening; there will be a panel discussion focusing on the filming of this classic here in Westport, with participation from local residents past and present who were participants in the film or observed the shooting, as well as a discussion of the 50's lifestyle depicted in the film. You may purchase tickets ($10) in advance at westportcinema.org or on the day of the screening at the Westport Historical Society, or at the door at Town Hall.